The short version:
Gordon Atkinson is the first artist in residence at the Wizard Academy. He lives in our magical kingdom and writes in search of souls, ours and his own.
The other version: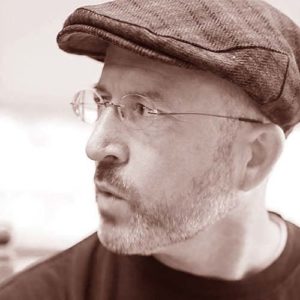 Should you have pulled that thread? I think so now, but you don't know in the moment, do you? Suddenly this thread appears and you kind of think maybe you should pull it. And once you start thinking about pulling a thread, the battle is over. It's just a question of how long you can hold out. How long you can not pull that thread so another day of your life can pass by unchallenged and unchanged.
You fought it harder than most. You wrote hundreds of thousands of words, now scattered here and there around the Internet and in a handful of books. And hey, a couple of times a year you hear that someone has read one of them.
Did you think writing about the thread would help you not pull it?
Whatever man. Doesn't matter now. You pulled that thread.
The big stuff came apart first. Your religion and what you did for a living. Then one thing came unravelled after another until you got to the end of everything. You hope it's the end anyway. Most of your former life is gone, and what's left has been forever changed.
And we stayed long in the belly of the whale, you and I, in that liminal space of waiting.
And we were afraid even to move, lest we be seen and more taken from us.
And we were alone.
Then the earth moved and a fount of water pushed me upward into the light. I found myself in the Land of La Mancha, down in a valley. Dazed, I wandered uphill and found Tommy, who was the Samwise Gamgee of the Wizard Academy in his day. He introduced me to Daniel, the Wizard's right-hand man. I tell you Tommy was a good friend to know and have. And now I have cut a covenant with Daniel. I will write about La Mancha in return for a roof over my head, a clean bed, and a place for my few possessions.
I have somewhere to live and a reason to write again.
It is a good beginning.