La Mancha, like every magical kingdom, needs its Fairy Folk. Elves, Sprites, Brownies, Nymphs, Pixies, and Leprechauns. These magical beings live among us but belong to another world, an older one that existed before science exploded our myths and drove the darkness from our land. Fairy Magic is strong in La Mancha. You can feel it at night, when the people leave and Wild Things come out to play.
And now I have come to believe something a modern person should not believe. I believe that Alyssa, who used to work at the Welcome Center, is of the Fairy Folk. She is a Star Child, a woman who lives somewhere between the outer world and the world that pulses behind her flashing black eyes and lovely smile. Baggy jeans from a bygone era and loose-fitting t-shirts with simple white tennis shoes. She told me she dresses for comfort and doesn't concern herself with much beyond that. Bright earrings, splashes of color in her hair, an amulet necklace, and brother, this Taurus is committed to her nose ring.
Sometimes when I talk to Alyssa the conversation is perfectly ordinary. We talk about our lives, the weather, and the latest gossip from La Mancha. And then there are other conversations. Conversations that leave our world and take us to other realms. Tarot, Carl Jung, Philosophy, Religion, Psychology. All of the mysterious and deep and old things. Once we were sitting at the big table in the Welcome Center and she said, "Do you ever stop and think about how other people see you? How they perceive you? And how close that perception is to who you really are?"
With Alyssa you never know where the conversation will end up.
The old stories say that a gift from a Fairy may be good or bad, but it will always change your life.
Alyssa has given me three gifts in the year I have lived in La Mancha. And I can testify that my life is better because of them.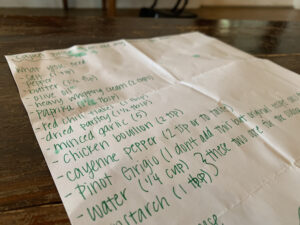 When I told her I was teaching myself to cook, she responded by bringing me a delicious, home-cooked meal. And it happened on one of those days when a meal from a friend can make all the difference.
Another time she brought Cajun pasta to serve the staff at the Welcome Center. I was invited, and when I complimented her on the meal, she wrote out her recipe for me in green ink. It's a complicated recipe, at least for me, so I've not been brave enough to try it yet. But I keep it in my kitchen where I can see it. The green ink makes me smile.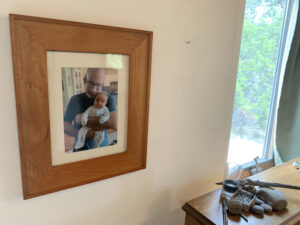 The first two gifts were sweet and kind. But the third gift is the one that sealed our friendship.
My first granddaughter was born a few months ago. I proudly showed Alyssa a picture from my phone. She asked me to text it to her, which I did. The next day I found a framed copy of that photo at the door to the Hermitage. It is now on the wall of my bedroom, near my collection of oddities I've found around La Mancha.
But you know how it is with Fairy Folk. They move on. Alyssa has taken another job and moved north to downtown Austin. I can tell you that La Mancha is less colorful with her gone.
As for me, I am a man thrice gifted by a Fairy.
I'm pretty sure I'm going to be okay.