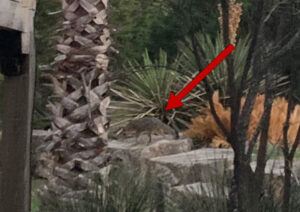 And just like that Foxy Brown is back. I was reading on the back porch of the Hermitage, looked up and saw Foxy moving eastward out of the Western Wild Lands into La Mancha. I grabbed my phone and managed to get a single, blurry image. I have an impression that this year's fox is a male. He's thicker about the head and shoulders and moves with a cautious purpose. He doesn't mess about. He's going wherever he needs to go and he doesn't hang around long enough for anyone to get a bead on him.
Last year's Foxy Brown had kits and was not afraid of humans. She often appeared right off the Camino Dulcinea in the middle of the day and allowed me to observe her from as close as ten feet. She regularly patrolled La Mancha to feed on the insects and small animals attracted to the lights around the pathways. I used to see her multiple times every week.
Our new Foxy is a shy boy. I think his den is somewhere out West and his patrol route brings him by my back porch in the evenings. I watch for him regularly but have only seen him three times, gliding like a ghost through the Juniper. He wants nothing to do with me, which is fine. I allow wild animals to set their own boundaries.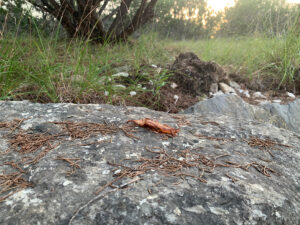 I have made one cautious move of friendship though. I sometimes leave a morsel of bacon on a stone behind the Hermitage, near his route. It's a nice treat but not enough food to disrupt his foraging instincts. I want him to feel that his hunting trail is safe and even provides a curious bounty now and again.
And perhaps he will come to realize that the man watching from the porch poses no danger to him either. He's an odd sort of man, different from most people in La Mancha. He is quiet, leaves treats sometimes, and apparently wants nothing more than a chance to watch a real, live fox living his fox life behind Spence Manor and the Hermitage, right here in La Mancha.