I entered the Wizard's tower on a Sunday afternoon and ascended to the roof where I found this Phasmatodea Icarus. Phasmatodea have a simple operating program. Eschewing the fierce and combative competition for calories on the ground, they climb and seek sustenance in bushes and trees.
With Foxy Brown patrolling the lights along the sidewalk and snapping up every bug she finds, I can certainly understand the appeal of a little elevation.
Sometime in early June of 2021 a drama unfolded atop the Tower unseen by anyone but the lesser angels. This particular Phasmatodea chanced upon the Wizard's tower. Following the simple imperatives of its nature, it began to climb. And when it had climbed as high as it could go, it found not the nourishment it sought but a cruel and barren landscape, consisting of some wooden folding chairs, an array of satellite equipment, and a bronze statue.
There being no place to go and nothing to eat, our Phasmatodea Icarus walked about the top of the Tower until it could walk no more. It moved slower and slower until it finally took one long last step. And that's how I found it, frozen between steps. I had to nudge it with my finger to see that it was indeed dead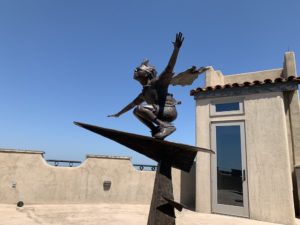 It died within feet of an inspiring statue though. An imaginative boy wearing goggles is perched atop a paper airplane and seeks greater heights as he soars upward with outstretched arms. Phasmatodea Icarus was in it for the food. We humans are the only ones who climb for the view.
You see, there really is something dangerous about this Tower. Something deadly even. Once you discover an elevated viewpoint, you can never forget that view.
Not ever.
An old story says there is an angel that guards the way back to the tree of life with a flaming sword, lest humanity be lost in the swirling vortex of the Uroboric, the compulsive desire to return to a more innocent state.
You cannot return to the the Garden after you've left. It's simply not allowed.
I come to the tower on Sundays when I will not run into the Wizard or any of his students. They are nice enough folks, but I think I prefer the view from my Garden of Eden that is Engelbrecht Village down in the Valley.
Perhaps one day I too will fly like the boy on the paper airplane at the top of the Tower. But for now I don't want to see things I cannot unsee.