And now a blazing and muscular Summer has fallen over La Mancha. The locals say it's going to be a bad one. When I open the door to the Hermitage it feels like I'm stepping into an oven. The sun throbs and shimmers and drains the colors of the landscape, leaving everything looking like an old polaroid photo. People avert their eyes from the sun, hide beneath broad brimmed hats, and scurry from one spot of shade to the next. Weddings are crowded into the mornings and evenings, leaving the Village of La Mancha strangely still and quiet in the middle of the day.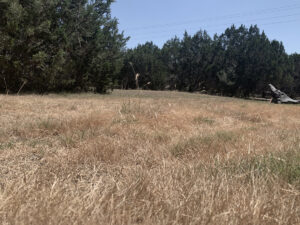 Caleb the groundskeeper kept the lawn at Spence Manor alive with meticulous watering through the Spring. It died within twenty-four hours of the first heat wave. It just turned brown and gave up.
There will come a day in September maybe, or October, when a morning chill will finally break the back of Summer. But that day is long away and no consolation. For now we comfort ourselves with memories of the wet wildflower days of Spring. It seems impossible that only weeks ago the land was verdant and heavy with moisture while wildflowers burst into color all over La Mancha.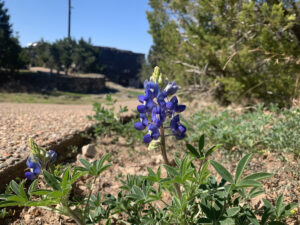 I saw my first Bluebonnet of 2022 on March 19th on Gallagher Lane. Within days the land was blanketed in bright colors and tender petals that would not last half an hour in the Sun now. I fell for Spring again, of course. We all do. We pretend the flowers are here to stay and somehow, we hope, Summer will be merciful and mild this year. It never is. Not one Texas Summer in my entire life has been mild. In the Spring, when Roxi and Elijah are working comfortably in the flower beds right in the middle of the day, it is easy to believe that life is soft and colorful and tender and delicate. And I want so to believe that. But it is hard to believe such things in Summer.
Tonight the heat will break around 9pm. La Mancha will be long empty, and I will walk the Camino alone, past Dulcinea all the way to the northern border. The nocturnal animals, the night hunters, will emerge from their dens and cry out into the night. And if a rogue breeze arrives from the north, as they sometimes do at night, my nose will lift into the breeze and I will seek the delicate scent of some distant northern flower.
That's what I'm hoping for anyway – the smell of a wildflower.
I want to believe again.